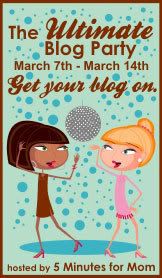 I just joined the Ultimate Blog Party and want to give all you first time visitors a big warm welcome!! I hope you stay and look around a while. There is usually something for everyone here including lots of freebies!!!
I had a great week last week with Pay Per Post and have now made a total of $230.00 in the last 7 weeks with them. What a nice little income! I am wondering if I can make enough to pay for our summer vacation - just from blogging for them!! I am sure going to give it a good try.
Here is a family picture to share. My BIL is working on my fireplace and will be installing a new set of doors on it for us. My DS and dog needed to stick there nose in things and wanted to help in anyway they could. I especially apreciate the fact that my BIL's undies are hanging out and not his crack!! As you can see... he is not a plumber!! LOL
For thos e who are new here, I would like to make a few referrals to products I love. The first would be, my favorite refunding website Refund Cents. My favorite magazine that is always jam packed with coupons All You [1-year subscription]. My favorite coupon file is here... Better Office Products Expandable File (Frosted Green). I have a section for all the store I frequesnt and stuff it full of coupons I will use at that store. Easy to grab since it is always ready when I run out the door! BlackBerry 8320 Curve Titanium myFaves Phone (T-Mobile) is the latest item I am trying to fit into my budget. I like to tighten the budget in some areas so I have more money to spend on other things.. like this phone! My favorite item for Easter baskets this year would be this Apple iPod shuffle 1 GB Purple (2nd Generation). They come is so many cute colors that I thought they would look great in an Easter basket. They have really come down in price too!!!
eBay Seller: brspri: Boys, VHS items on eBay.com - Here is what I am selling on Ebay this week... more spending money for me!! How much can I build that pay pal account before the beach this summer. Between Ebay and Pay Per Post, I think I have a good chance of covering all our expenses. How is that for frugal?
And the freebies for today........
The Calcium Information Resource - printable coupons
Cetaphil.com - free sample
Free Sample of Healthful Life™ Cat Food from Purina CatChow® - free sample
Walmart.com - Garnier Nutritioniste Ultra-Lift - free sample
Walmart.com - Dove Hair Care - free sample
http://iheartcvs.com/wellness360coupons.pdf - $ off $15 at CVS
Gillette Fusion Gift With Purchase - find out how to get a free toiletry bag

Go here It's The Ultimate Blog Party 2008! to look at these... over 150 prizes.